Ideal For 
Commercial Spaces
Indoor Use
Site Preparation
Standard
Max Travel Speed
20FT/MIN
Max Platform Size
W40″ x L60″
The Commercial Stratus lift is the practical turnkey mobility solution for buildings up to two storeys and four stops. A standard format product, the Commercial Stratus is available in three car sizes and travel distances, with a range of finishing options, offering flexibility and value that doesn't compromise performance.
The Stratus' standardized sizing eliminates complexity and cost and significantly reduces installation time, making it an ideal addition to both new builds and renovations alike. With its completely enclosed car, it affords riders the experience of an elevator at a fraction of the price.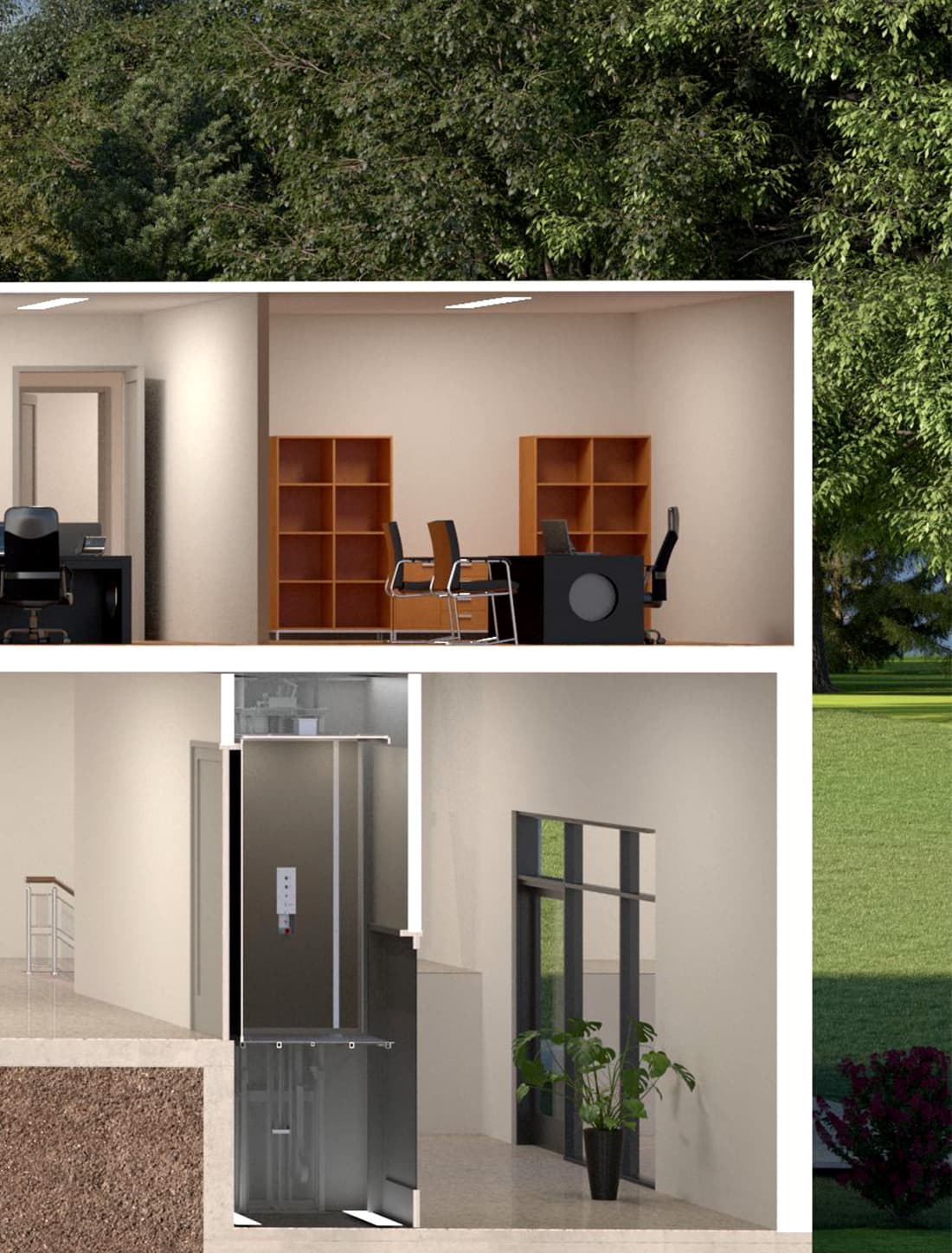 Tailored Finishes
Choose from three standard car sizes and travel distances, in addition to multiple interior finishes and door styles to complement your space.
Economical Performance
The Commercial Stratus lift is 40% less expensive than our Traction LULA Elevator and as much as 65% less than a commercial passenger elevator.
Soft Start/Stop
Thoughtful engineering means every ride on a RAM product begins and ends with comfort in mind.
All-Electric Drive System
RAM's field-proven electric drive system is reliable, powerful and whisper-quiet. Plus, no hydraulic fluid = no harsh smells.
Machine-Room Less (MRL) Design
While other elevators may need a separate room for essential machinery, every RAM product is compact and self-contained, saving you space, time and money.
Limited or No Pit Required
Choose a pitless build with a 2" ramp, ideal for existing spaces, or a 2" pit for flush access.

= RAM Advantage, an essential feature found in all of our products.
GROUNDED SIMPLICITY,
ELEVATED DESIGN
Get started with RAM today.
Technical
Documentation
+ Support
Please check with local regulatory authorities as capacity, size and speed restrictions may apply
Manuals + Maintenance
Available Sizes
Car Size:
Car Inside Dimensions
Shaft Dimensions
Width
Depth
Height
Depth
Length
Small
36″
48″
84″
50.5″
53.5″
Medium
40″
54″
84″
54.5″
59.5″
Large
40″
60″
84″
54.5″
65.5″
Travel Heights:
| Max Travel (T) | Min Overhead Clearance (C) | Tower Height (TH) |
| --- | --- | --- |
| 9′ | 92″ | 13′ |
| 11′ | 92″ | 15′ |
| 14′ | 92″ | 18′ |