Dependable Outdoor Lifts with RAM Elevators + Lifts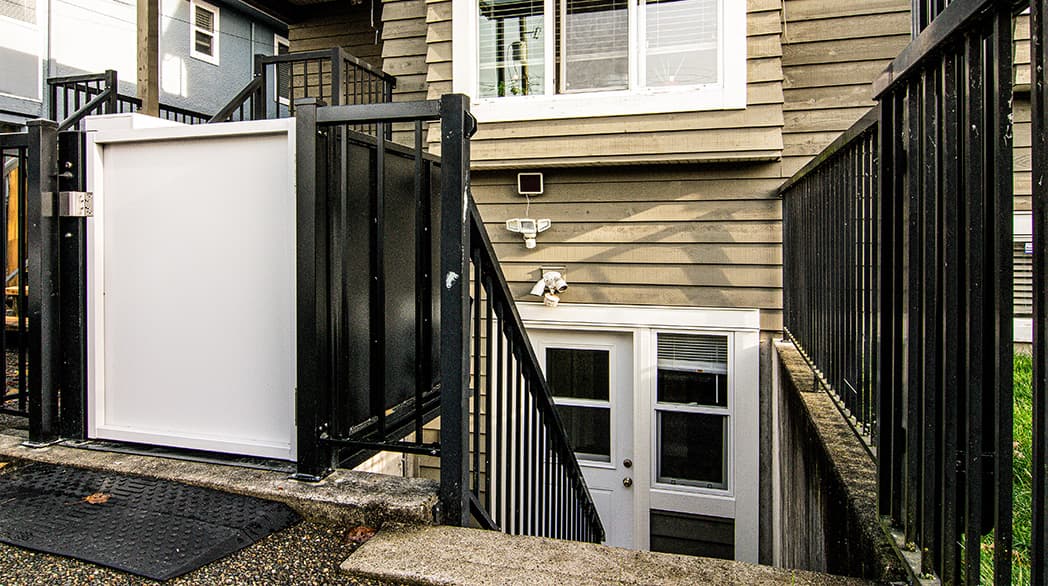 All elevating devices face some form of stress or strain over time. When it comes to outdoor residential lifts, they must be engineered to stand up to the weather. Not all lifts are created equal; climates that include extreme temperatures, precipitation, or even flooding and other unique conditions will quickly wear out an inferior product. When your mobility and freedom hang in the balance, it's important to have a lift you can depend on.
For over 30 years, RAM Elevators + Lifts has engineered and manufactured mobility solutions that provide unbeatable quality, performance, and value for customers across North America. Today, our Trus-T-Lift line of indoor/outdoor lifts offer versatile, affordable accessibility solutions that stand up to anything Mother Nature throws at them. Learn more about what makes RAM Trus-T-Lift a dependable choice below.
Engineered to Last
Based in Edmonton, Alberta, RAM Elevators + Lifts understand firsthand the challenges posed by challenging weather conditions. That's why, over the last three decades, we've perfected the Trus-T-Lift design to deliver reliable performance in extreme heat, cold, and precipitation.
At the core of every Trus-T-Lift, RAM's field-proven Electric Drive System drives powerful, weather-resistant performance to keep you moving with confidence. Its patented Zero-Load Start design protects the motor from extreme cold and heat, ensuring reliable startup and use in nearly any conditions. RAM Trus-T-Lifts are built from top to bottom to resist the effects of heat, cold, rain, and snow, delivering a lifetime of dependable performance and reliable mobility with minimal maintenance.
Built for Safety & Comfort
The RAM Trus-T-Lift's durable design includes a non-slip metal platform and high-sided enclosures for year-round safety and comfort. They also come standard with Oversized Soft Touch Controls for smooth, easy operation, even with limited dexterity. For emergency use, choose between standard manual crank or battery backup options to ensure safe operation at all times.
In addition to durability, RAM's Smart Space Design means your Trus-T-Lift can be easily integrated into nearly any outdoor space. With a wide variety of wide range of available configurations including custom platform sizes, travel heights, colours, and more, you can design the ideal Trus-T-Lift to complement your property and existing features. We also offer a complete selection of peripherals and accessories to meet unique accessibility requirements.
Lifetime Value
RAM strives to make mobility easy and affordable for our customers for life. Our Trus-T-Lifts are engineered to withstand the most extreme weather conditions while requiring minimal maintenance. Even in the most challenging climates – including areas subject to flooding and extreme temperatures – Trus-T-Lift platform lifts deliver unrivalled reliability, low maintenance costs, and dependable year-round mobility solutions. No matter your accessibility needs, you can rely on RAM to deliver top-quality solutions that will last a lifetime.
GROUNDED SIMPLICITY,
ELEVATED DESIGN
Get started with RAM today.